Welcome to the Five College Center for East Asian Studies Study Tour Website!

Japan
2010 Study Tour Journal
(click here for PDF)

---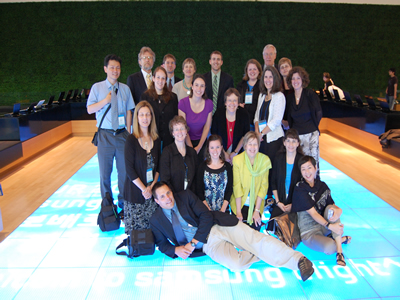 2009 Study Tour Participant Journal
(click here - PDF)
The Five College Center for East Asian Studies (the Center) is one of many programs administered by Five Colleges, Incorporated, a consortium of Amherst, Hampshire, Mount Holyoke, and Smith Colleges, and the University of Massachusetts Amherst. The Center's outreach efforts include a highly successful multi-year project, the National  Consortium for Teaching about Asia (NCTA), funded by the Freeman Foundation.

The Center is a founding national site of the project, which encourages and facilitates teaching and learning about East Asia in world history, geography, social studies, literature/language arts, art, and music classes in K-12 classrooms. For the past eleven years, the Center has administered 30-hour seminars for hundreds of teachers throughout New England and upstate New York. Successful alumni of the seminar have participated in study tour programs that have included in-country experiences in China, Korea, and Japan.

There were 16 participants in the 2009 program, "Korea and Japan in the 21st Century." The program is led by Kathleen Woods Masalski, director of the Center; Maureen Stephens is the study-tour leader. Scholars Mark Peterson (Brigham Young University) and Merry White (Boston University) accompany the group in Korea and Japan, respectively. The Academy for Korean Studies supported the teachers as they traveled in Korea.

This Website is designed and maintained by Ted Mitchell, Social Studies Curriculum Coordinator at Alan Shawn Feinstein Middle School of Coventry, RI. The Five College Center for East Asian Studies & Five Colleges, Inc. are not responsible for the content of this website. Ted is an alumnus of the Center's NCTA seminar and previous study-tour programs. Each participant in the 2009 program has a folder for which s/he is responsible.