The Royal Tombs of Silla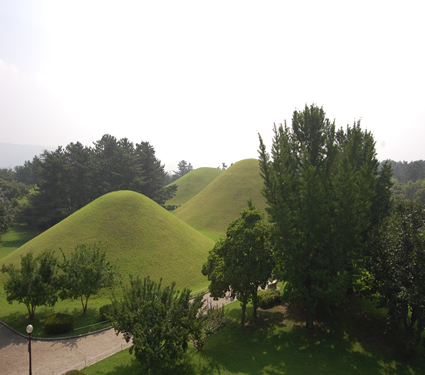 "Massive royal tomb mounds dot the area in and around the city of Kyongju. And, located in the city's historic center is Taenung-won ("Tumuli Park"), an area that has about 20 mounded tombs of Silla's kings, queens, princes, and other royal relatives. The finds within them offer historians and visitors a unique view of royal court life in Silla times.
Ch'onma-chong, or "Heavenly Horse Tomb," is the most famous. It was named after a painting of a heavenly horse (right) that was found in a wooden chest in the tomb's main chamber. The painting was done on a birch-bark saddle guard, few of which have ever been found. The design is significant, because it hints of foreign influence from mounted tribal people who moved down into the Korean peninsula from northeast Asia and the Silk Road beyond.
To whom the tomb belonged is not known, but its design and contents offer evidence of the owner's importance. In the 1970s, archaeologists documented about 10,000 objects from this tomb. The most spectacular is a gold crown. Decorated with upright antler- and tree-shaped branches, it once had long pendants attached with gold wire that would have shimmered brilliantly when the wearer moved his head. The pendants were sheet-gold spangles and pieces of jade that had been shaped to resemble tiger claws. The crown provides insight into the practices of Silla shamans. Silla rulers were followers of both shamanism and Buddhism." (Encyclopedia Britannica)
[Slideshow or Downloadable Pictures]
Helpful Links:
Heilbrunn Timeline of Art History
Wikipedia - Cheonmachong