Ryoan-ji Temple (Kyoto)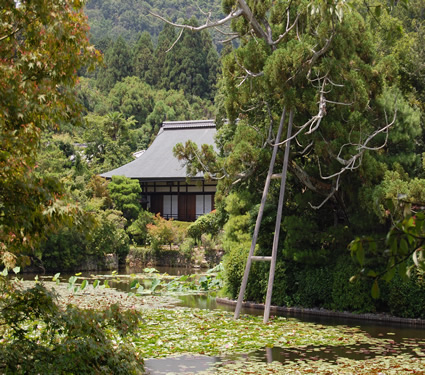 "The site of the temple was originally a Fujiwara family estate during the Heian period. The temple was founded in 1450 by Hosokawa Katsumoto (1430-73), a military leader in the Muromachi period.
The original temple buildings burned down during the Onin Wars (1467-77), in which Katsumoto was killed. The temple was reconstructed from 1488 to 1499, and Ryoanji's famous rock garden was probably constructed around this time. Further reconstructions and additions were made over the centuries.
The temple belongs to the Myōshinji school of the Rinzai branch of Zen Buddhism. Rinzai Zen was introduced to Japan by the Chinese priest Ensai in 1191 and emphasizes the use of koans, paradoxical puzzles or questions that help the practitioner to overcome the normal boundaries of logic." (Sacred Destinations Website)
[Slideshow or Downloadable Pictures]
Helpful Links:
Ryoan-ji Temple Website
Ryoan-ji Temple (Asian Historical Architecture)
Wikipedia - Ryoan-ji Temple