Oksan Seowon Confucian Academy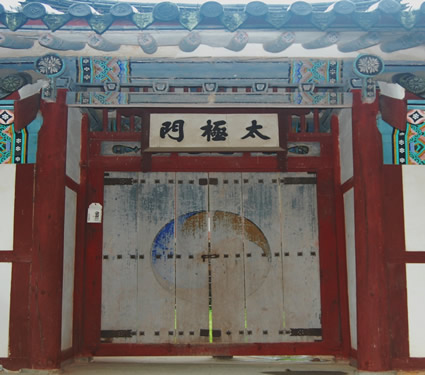 "Oksan Seowon was completed in 1572 in honor of Yi Eonjeok, a great Korean Neo-Confucian philosopher who stressed the primacy of material force over principle. It is established by his disciples on a site a few hundred meters to the south of Dongnakdang, the house where Yi Eonjeok lived during the later part of his life. The academy is located on a geomantically auspicious site with mountains on three sides and a stream flowing near the main entrance. Interestingly, this is the same stream that runs past the Gyejeong pavilion at Dongnakdang house, which Yi Eonjeok used as a site for contemplation and self-reflection.
The building layout is typical of most academies. The shrine to Yi Eonjeok sits at the highest point of the site, surrounded by an earthen wall connected to the outer wall. South of the shrine is a quadrangle of buildings, consisting of two dormitories to the east and west, a lecture hall to the north, and a study hall to the south.
Oksan Seowon is also famous for preserving an intact copy of the Samguksagi, a history of early Korea, listed as a national treasure." (Asian Historical Architecture)
[Slideshow or Downloadable Pictures]
Helpful Links:
Asian Historical Architecture - Oksan Seowon
Wikipedia - Yi Eon-jeok