The City of Nara & Deer Park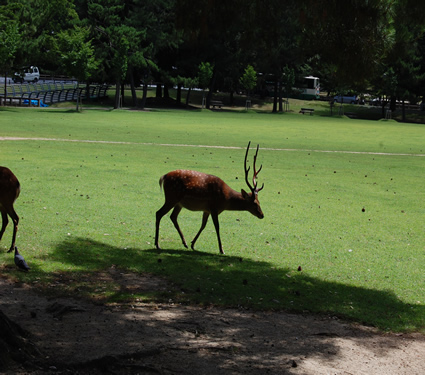 "Japan's first permanent capital was established in the year 710 at Heijo, the city now known as Nara. As the influence and political ambitions of the city's powerful Buddhist monasteries grew to become a serious threat to the government, the capital was moved to Nagaoka in 784.
Nara is located in the Kinai plain, less than one hour from Kyoto and Osaka. Due to its past as the first permanent capital, it remains full of historic treasures, including some of Japan's oldest Buddhist temples." (Japan Guide Website)
"Tame deer roam through the town, and especially in Nara Park. These deer might be considered "tame" if the visitor does not have any "shika sembei - Deer Biscuits" when they see them.
According to the legendary history of Kasuga Shrine, a mythological god Takemikazuchi arrived in Nara on a white deer to guard the newly built capital of Heijō-kyō. Since then the deer were regarded as heavenly animal to protect the city and the country.[6] Snack vendors sell small biscuits to visitors so they can enjoy feeding the deer. Some of the deer have learned to bow in response to tourists' bows. They nudge, jostle, and even bite for food." (Wikipedia)
[Slideshow or Downloadable Pictures]
Helpful Links:
The Ancient Japanese City of Nara (Archaeology - About.com)
Wikipedia - Nara