Kasuga Taisha Shrine (Nara)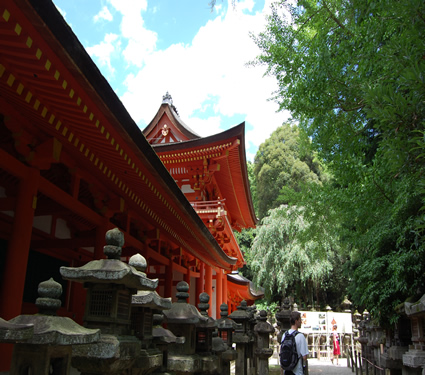 "Kasuga Taisha is Nara's most celebrated shrine. It was established at the same time as the capital and dedicated to the deity responsible for the protection of the city. Kasuga Taisha was also the tutelary shrine of the Fujiwara, Japan's most powerful family clan of most of the Nara and Heian Periods.
Like the Ise Shrines, Kasuga Shrine had been periodically torn down and rebuilt every 20 years for many centuries. In case of the Kasuga Shrine, however, that Shinto custom was discontinued at the end of the Edo Period.
Kasuga Taisha is famous for its many lanterns which were donated by worshippers. The many bronze lanterns within the shrine and the hundreds of stone lanterns lining the shrine's approach are lit on the occasion of the Lantern Festivals in February and August." (Japan Guide)
[Slideshow or Downloadable Pictures]
Helpful Links:
Kasuga Shrine - Sacred Destinations
Wikipedia - Kasuga Shrine