Haeinsa Temple & Tripitaka Koreana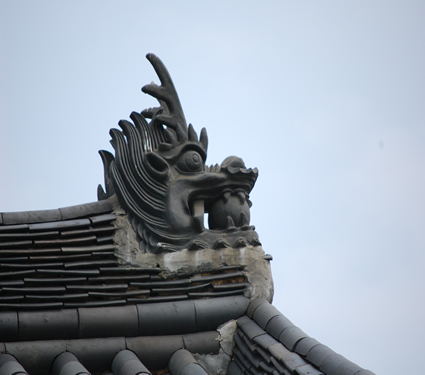 "Tradition says that Haeinsa was first settled in 802 by the monks Suneung and Ijeong, who had just returned from China. The name, meaning "Temple of Reflections on a Smooth Sea," derives from a verse in a Buddhist sutra that compares the Buddha's wisdom to a calm sea. When the mind is freed from the wild waves of worldly desires and follies, it will attain a calmness in which the true image of all existence is clearly reflected.
Soon after, the temple was built by a grateful King Aejang after the monks healed his wife. According to legend, the monks tied one end of string to the queen's tumor and the other end to a tree, chanting Buddhist verses. Miraculously, the tumor vanished as the tree withered and died.
Hundreds of years later, 13th-century Korea was at war with the Mongols. The Korean government, in exile on Ganghwa island, commissioned a copy of the Buddhist scriptures in hopes of earning the Buddha's intervention in the war. The resulting Tripitaka Koreana (carved 1237-48) is considered the best copy of the scriptures in Asia. According to tradition, the woodblocks were made of white birch first soaked and then boiled in sea water for three years, then dried for three years in the shade.
Haeinsa suffered a devastating fire in 1817, in which nearly all the wooden temple buildings were destroyed. Only the Tripitaka library at the rear of the complex, built in 1488, escaped damage. The main worship hall was rebuilt in 1818 during the late Joseon (Chosôn) dynasty, on the foundations of the one built a thousand years earlier by Haeinsa's two original monks.
The library hall and its woodblocks of scripture were designated a Korean national treasure in 1962 and a UNESCO World Heritage Site in 1995.
In the late 20th century the monks of Haeinsa entered the computer age, painstakingly inputting the contents of the Tripitaka Koreana into electronic form from 1992 to 1994. The ancient text is now stored on a CD-ROM and the monks have further plans to provide a parallel translation into modern Korean and extensive cross-referencing and other indexes." (Sacred Destinations Website)
[Slideshow or Downloadable Pictures]
Helpful Links:
LIfe in Korea - Haeinsa
Sacred Destinations - Haeinsa