Bulguksa Temple - "Temple of the Buddha Land"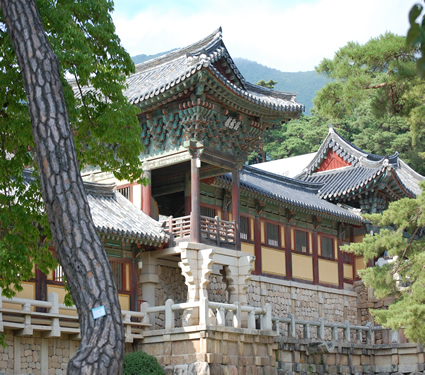 "Given its important status today, it is interesting that Bulguksa was never intended to be a major temple. It was originally founded in 535 by King Pob-hung, for the use of his queen to pray for the welfare of the kingdom. The small wooden temple was given the name Hwaeombeomnyusa.
The present temple was begun in 751 by Prime Minister Kim Daeseong, whose life story is shrouded in legend. It is said that he was born clutching a seal inscribed with his name in his previous incarnation, Kim Daeseong.
The original Kim Daeseong was the legendary architect of the first temple on this site, who overcame extreme poverty and ugliness — he was called "Big Wall" for his flat forehead — through Buddhist devotion. He led such a good life that he was reincarnated as the prime minister of the same name, who grew up devoted to Buddhism and gave it official support.
Legend has it Prime Minister Daeseong personally designed the temple and dedicated it to the memory of his ancestors. Whether or not this is the case, the temple was completed in 774 by the Silla royal court and given the name Bulguksa ("Temple of the Buddha Land").
Bulguksa was burned to the ground during the 1592 Hideyoshi Toyotomi invasion. It was partially reconstructed during the Japanese occupation of Korea (1910-1945) and fully restored under President Park Chung-hee (1961-1979).
Bulguksa Temple was added to the World Heritage List by UNESCO in 1995, together with the nearby Seokguram Grotto" (Sacred Destinations Website)
[Slideshow or Downloadable Pictures]
Helpful Links:
Korea National Heritage: Bulguksa
Korean Culture: Bulguksa